Since there has been alot of stuff going on past few months in GFX land, I've decided to take a bunch of benchmark results from 6 different websites and 5 games they each did. Combined them all and came up with a few numbers.
The FPS results I've taken are from the 1920*1200/1080 benchmarks. According to Steam only 4% of the gamers use higher resolutions. In this resolution the HD6970 is a little bit behind on the GTX570, in higher resolutions the HD6970 will be a bit faster due to having 2GB onboard where the GTX570 only has 1.25GB. Keep this in mind if you try to decide between these two.
Since I have taken results from all games and combined them, I suggest you go look at benchmarks yourself if you only play one (type of) game. Since some games favor Nvidia or AMD more. If you are like me and some of the people I know and play whatever comes your path, these might be interesting numbers.
The prices are an average from Dutch webshops, you can find all cards a little bit cheaper if you search for them.
PowerUsage in Watt Prices
GFXCard AvgFPS idleavg loadavg euro Euro/FPS
6870 44 220 =5,00
6950 53 172 339 270 =5,09
5870 49 250 =5,10
5970 80 410 =5,13
460 1gb 37 190 =5,14
6970 59 185 378 330 =5,60
570 61 187 414 350 =5,74
580 69 200 452 460 =6,67
6970CF 90 660 =7,33
580 SLI 94 920 =9,79
To obtain the data, I added up all the numbers and took an average. The datea was obtained from the following sites; HardOCP, Anandtech, Tweakers, OverclockersClub, Hardwareheaven & Guru3d.
Interesting to see that the HD6870 1gb is atm best bang for the buck, this seems to be the lowbudget computer choice, overtaking the GTX460 1gb. Eventho its definitely not the fastest card in the group it is one of the cheapest. It's followed closely by the HD6950, the HD6950 comes like the HD6970 also with 2gb, keep this in mind if you are running high resolutions. The HD6950 seems to be (judging from forums) the nuber one choice of the new cards to run in crossfire (combined with Eyefinity), due to its solid performance/price ratio. Sadly I have no benchmark numbers of this atm.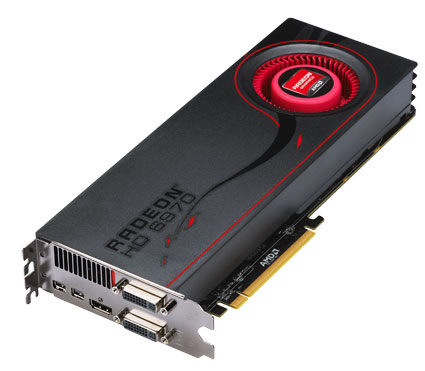 The HD5870 and the HD5970 score pretty well price/performance wise because they can be found for pretty decent prices in most webshops because of the new line. Dont think they will be around for long tho since they are discontinued. Most driver updates from now on will be mostly supporting the 68xx and 69xx line and where the HD5870 was a pretty solid card, the HD5970 has had its share of (driver) problems. In my opinion this would be a great time for people who already own a HD5870 to get another one and go crossfire. If you are in the market for just one new card I would go for one of the new ATI/Nvidia products.

 

Nvidia surprised friend and foe last two months with their GTX580 and GTX570, these cards have a better performance/power/price ratio then their 4xx line had. The GTX580 is the best single GPU videocard out there atm but it is pretty expensive, if money is not an issue this would be the way to go imo.

 

ATI still has to release its HD6990, with two GPU's onboard, it will be interesting to see what price and performance this card will bring. It will probably slightly less powerfull then two 6970's but also less expensive. Rumor has it that Nvidia is also working on a dual GPU card.

 

If I were to upgrade in the near future it would come down to the Nvidia GTX570 or the AMD HD6970. These two cards just pack alot of punch at a decent price. The Nvidia is a little bit faster on Full HD and lower resolution where the ATI seems to shine at higher resolutions, due to the 2GB. It also uses 40watt less which would make it overtime an even cheaper card then the 570.

 

I think for most people it would come down to what they prefer, but if you are planning to game at a higher resolution in the near future and don't mind saving the environment while you do it, the HD6970 will be the choice for you.